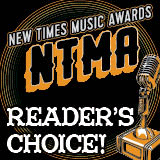 "Feels Like I Might Disintegrate", from our self titled album released earlier this year is up for a Readers Choice award in the 2016 New Times Music Awards! Go vote for us!  (you have until Oct 13th) Make sure to check your email for the vote verification link!
We are truly honored to be included among all of these impressive artists! All of the songs nominated are pretty great, be sure to check them out. 
Each first place finisher will compete against the others for Best Live Performance during the concert and awards ceremony. A panel of celebrity music industry judges will determine the best live performer, who will receive a specially customized Newtie.
All told, seven bronze Newtie Awards will be presented. These stunning awards are hand cast from Peace Bronze, metal reclaimed and recycled from decommissions weapons systems. Second and Third place finishers in the five genres, songwriting, and album categories will receive specially designed plaques.
Tickets will be available at a future TBA date at the New Times (1010 Marsh Street, SLO), Sun (2540 Skyway Dr. Ste. A, Santa Maria), Boo Boo Records (978 Monterey St. SLO) or at TicketFly.com