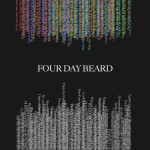 Some people say that Knoxville, TN is the Bermuda Triangle of the Appalachians. I'm sure there are far stranger things happening but the story you are about to hear is true, only the names have been changed to protect the innocent. Don't bring your girl to Knoxville… there are at least 3 nearly identical stories like this that I know of from my time in Knoxville…
… another track from the album for you all on this fine Friday morning. We are getting close! I can almost smell it.
"Sweetheart Suckers" is the sixth track from the upcoming Four Day Beard release available on iTunes, Spotify, Tidal etc. on Friday April 15th.
I will be posting the one of rest of the track's from this album every Friday until the release on April 15th.