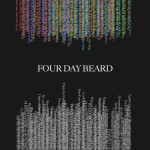 Happy "Four Day Beard" Friday. Here we are at the halfway point.
"Döppleganger" is the fourth track from the upcoming Four Day Beard release available on iTunes, Spotify, Tidal etc. on Friday April 15th.
For the past 5 or 6 years I have been frequently mistaken for someone else by strangers that I have never met. Enough times that it started to seem strange.
I guess there are a lot of bald guys around with beards and black rimmed glasses.
This song is about my Döppleganger. See ya around, buddy.
I will be posting the one of rest of the track's from this album every Friday until the release on April 15th.