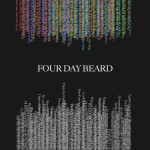 Happy Friday. Are you ready for the third track?
"Salty Brine" is the third track from the upcoming Four Day Beard release available on iTunes, Spotify, Tidal etc. on Friday April 15th.
This song is pretty special and important to me. It was the first song I wrote while living in Southern Illinois. This helped me start to reconnect with music and myself at a time that I felt extremely isolated and started the journey that became this album of songs. It's dark, angsty and vulnerable, but that usually makes for good songs doesn't it?
Shout out to my good friend, Karim Elghobashi (Gun Hill Royals) who played the killer guitar leads on this song.
I will be posting the one of rest of the track's from this album every Friday until the release on April 15th.