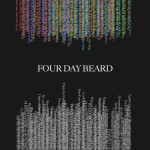 Happy Friday. This is the second track from the upcoming Four Day Beard release available on iTunes, Spotify, Tidal etc. on Friday April 15th.
"Feels Like I Might Disintegrate" has been compared to some great bands like Sparklehorse and Beck. I am a huge fan of both, so hearing that is a great compliment. This track has been featured on Nick Taan's "Is This Thing On?" Independant music podcast (thanks for the Beck compliment, Nick!).
I will be posting the one of rest of the track's from this album every Friday until the release on April 15th.