If you like independent music podcasts, and I know you do, Check out "Is this thing on?",  Nick Tann's independent music podcast. It's a great podcast out of Southampton on the south coast of the UK.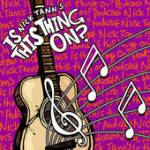 On a completely unrelated note (ok somewhat totally related), Nick featured one of our songs on his podcast today. Among a bunch of other good independent music, Nick included "Feels Like I Might Disintegrate". from our debut self titled album that will be available on iTunes, Spotify et al. on April 15 to help ease your tax day woes.
Maybe its just that everything sounds better with a British accent, but Nick gave us a pretty great compliment saying that the song "Sounds like Beck… like something off odelay," and  "I fucking love that about it". Thanks Nick and keep up the great podcasting.
Have a listen here:
http://isthisthingonpodcast.com/2016/02/is-this-thing-on-independent-music-podcast-8/
Nick's podcast is also available on iTunes